Good stock is the beginning of all success
A type of shrimp seed is not always suitable for all farming environments. Environment and genetics are interrelated. A shrimp seed that is suitable for one environment may not be suitable for another.
Currently, the disease is one of the biggest challenges in the shrimp farming industry. For Binh Minh domesticated white leg shrimp, we choose according to the disease resistance of the broodstock. When the environment is a challenge, you should choose the safe method. Our stock is suitable for ponds with a difficult environment to control. They have high resistance to help against diseases such as WSSV and AHPND. Besides, they also help increase the survival rate in severe weather environments. If you want shrimp to grow fast in harsh environments, you can choose our shrimp line with good growth and disease resistance.
Binh Minh domesticated white leg shrimp has a high survival rate even when the culture period is longer than 90 days.
According to statistics, the average feed conversion ratio is less than 1.3 when shrimp reach a size greater than 23 g.
Average daily growth (ADG) ranges from 0.3 to 0.7 g depending on stocking density, water quality, feed, and other factors.
The growth rate is recorded:
For the industrial white leg shrimp farming model: the density is about 50 – 80 individuals/m2. Reaching a size of 50 -60 fish/kg after two months of culturing.
Our stock is strictly controlled. We monitor the health status of broodstock at different stages. Our broodstock source is certified specific pathogen-free (SPF), which means they are free of any of the following listed pathogens: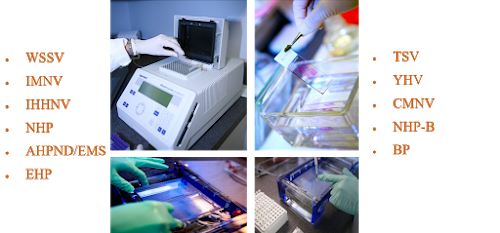 Binh Minh Aquaculture Development Co., Ltd
Youtube: https://www.youtube.com/channel/UCHgvogsXIXPSkEJcqspT9xQ
Fanpage FB: https://www.fb.com/tomgionggiahoabinhminh